Roll over image to zoom in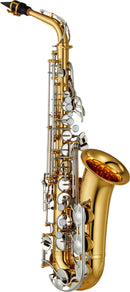 Description
The Yamaha YAS26 alto saxophone is an ideal student level instrument. Reliability and quality built instrument with a 3 year warranty. Includes case and mouthpiece.
New neck receiver with a durable screw

A redesigned neck receiver promotes a quick response and ease of play while also increasing the durability of the mechanism.
Improved Low B-C# connection
An improved mechanism from low B-C# ensures the consistent closing of the low C# key and promotes a clear response from notes in the low range of the instrument.
Adjustable thumb-rest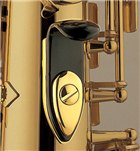 All Yamaha saxophones feature an adjustable thumb-rest to allow for precise and comfortable hand and fingering position.
Nickel-plated keys
Durable and resistant to wear.
Payment & Security
Your payment information is processed securely. We do not store credit card details nor have access to your credit card information.